All CPU-ID Software in One Pack (6 in 1) (x86x64) Full Version Download!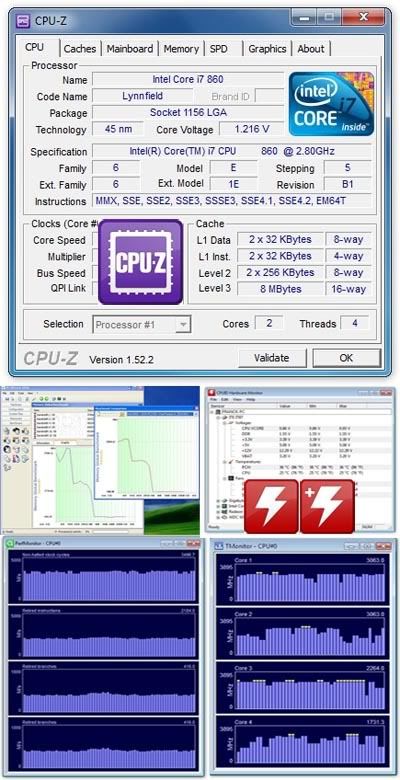 CPU-Z — PC – Wizard — Perf Monitor — Hardware Monitor — Hardware Monitor PRO! — T-Monitor aka Thermal Monitor
* CPU-Z
What is CPU-Z
CPU-Z is a freeware that gathers information on some of the main devices of your system.
CPU
Name and number.
Core stepping and process.
Package.
Core voltage.
Internal and external clocks, clock multiplier.
Supported instruction sets.
Cache information.
Mainboard
Vendor, model and revision.
BIOS model and date.
Chipset (northbridge and southbridge) and sensor.
Graphic interface.
Memory
Frequency and timings.
Module(s) specification using SPD (Serial Presence Detect) : vendor, serial number, timings table.
System
Windows and DirectX version.
* PC – Wizard x32 & x64
What is PC-Wizard
Since 1996 PC WIZARD is among the most advanced system information programs on the market. PC WIZARD is a powerful utility designed especially for detection of hardware, but also some more analysis. It's able to identify a large scale of system components and supports the latest technologies and standards. This tool is periodically updated (usually once per month) in order to provide most accurate results.
PC WIZARD is also an utility designed to analyze and benchmark your computer system. It can analyze and benchmark many kinds of hardware, such as CPU performance, Cache performance, RAM performance, Hard Disk performance, CD/DVD-ROM performance, Removable/FLASH Media performance, Video performance, MP3 compression performance.
PC WIZARD can be distributed freely (ftp, archives, CD-ROMs…).
* Perf Monitor x32 & x64
What is PerfMonitor
PerfMonitor is a processor performance monitoring tool. It allows to track the frequency of 4 events choosen in a set of model-specific list. It can be used to identify the performance bottlenecks of a system, or to monitor a program for cache-miss rate or mis-predicted branches. But PerfMonitor can also be used as a hardware-level CPU comparison tool, comparing the key parameters of different CPUs runnning the same benchmark.
* Hardware Monitor x32 & x64
What is HWMonitor
HWMonitor is a hardware monitoring program that reads PC systems main health sensors : voltages, temperatures, fans speed.
The program handles the most common sensor chips, like ITE® IT87 series, most Winbond® ICs, and others. In addition, it can read modern CPUs on-die core thermal sensors, as well has hard drives temperature via S.M.A.R.T, and video card GPU temperature.
* Hardware Monitor PRO! x32 & x64
What is HWMonitor PRO
CPUID HWMonitor Pro is our extended version of the hardware monitoring program HWMonitor. In comparison to its classic counterpart, HWMonitor Pro adds the following features :
Remote Monitoring
Watch the sensors of one or several distant PCs through a simple TCP/IP connection.
Graph Generator
Save monitoring data and generate logging graphs as bitmap files.
Improved Interface
Sensors in system tray, editable sensors labels …
PWM Control
Fan PWM control (for ESA compliant devices).
* T-Monitor aka Thermal Monitor x32 & x64
What is TMonitor
TMonitor is aimed to display the active clock of each individual core of Intel Core 2 and Core i3/i5/i7, as well as AMD K10 processors.
A very high refresh rate (20 times per second) allows to visualize the smallest clock variation in real time. TMonitor is able to detect mechanism such as Intel Turbo boost, and therefore allows to clearly visualize its effect as the processor is working.
DOWNLOAD
http://www.filesonic.com/file/165982326 ... es6in1.rar